As people eat and drink each day, they could be doing harm to their teeth and gums if they do not take care of them properly. They can yellow over time and even start decaying and forming cavities. To prevent this, you can follow an oral health routine and use some home remedies for beautiful teeth. Many of these remedies are easy to make and only use ingredients you likely already have. They take very little time or effort, buy pay off in a big way. Consider using one or more of these remedies to ensure you have a beautiful, pearly white smile.
As this informative infographic from Swindon-Dental.co.uk shows, it does not take much to keep your oral health in top condition. By following some simple guidelines you can prevent painful and expensive trips to your dentist.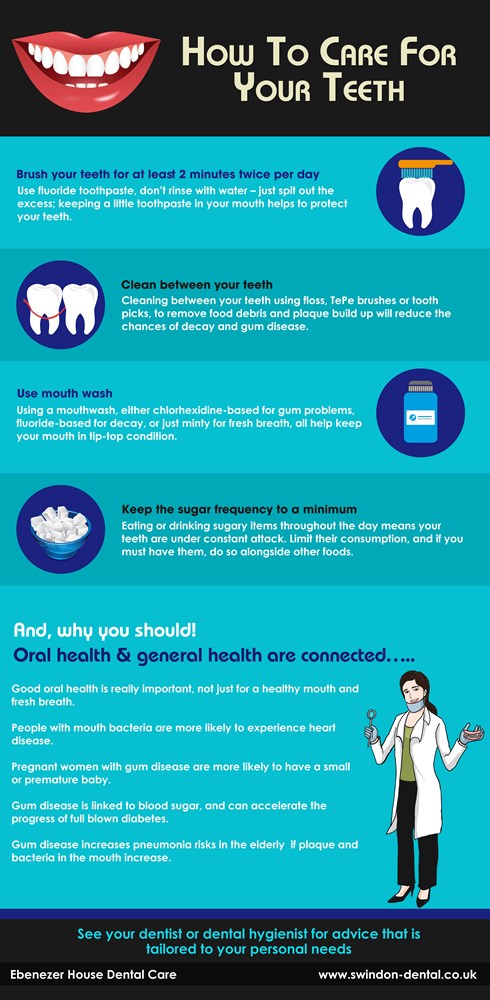 Some of the most popular ingredients that find their way into multiple remedies are lemon juice, baking soda, and peroxide. This first one uses two of these ingredients, the lemon juice, and baking soda. Just pour the juice of half a lemon in a bowl, or squeeze it directly into the bowl. Add a bit of baking soda until it bubbles a little, then spread onto your clean, dry teeth using a cotton swab. After a minute, rinse thoroughly with water. You can use a toothbrush to gently wipe the mixture off your teeth, but do not do it too hard, or you can damage the enamel. Since the lemon juice is acidic, do not leave on for more than a minute, or this can also do damage.
Strawberries are lauded for the many vitamins and minerals that they contain. They are also relatively affordable, juicy and delicious. Simply eating strawberries as a part of your regular diet will help with your oral health. But you can also take things to the next level by mashing up a strawberry into a bowl with a bit of baking soda to form a paste. Use this to brush your teeth once a month to help get rid of stains that can cause discoloration.
Speaking of fruits, nature provides several ways to help you get a white, brighter smile. Bananas are, like the strawberries, heralded as a health food. They are sweet and delicious and even kids like eating them. Most people just discard of the banana peel when finished, but if you want a nice whitening effect, do not throw it out. Instead, rub the inside of one of the peels across your teeth gently. Do this twice a day, using half the peel each time, which allows you to use only one banana per day. The vitamins and minerals from the peel soak into your teeth and help strengthen them, which gives you a gorgeous smile and keeps your mouth healthy.
Everyone uses toothpaste to brush, but you increase the effectiveness of the toothpaste by adding a few simple ingredients you probably have on hand. Use one teaspoon each of hydrogen peroxide and baking soda with a teaspoon of water. Mix with your regular toothpaste and brush as you normally would. This has a whitening effect and makes your teeth feel extra clean. Do this once or twice a week, then use your toothpaste by itself the rest of the time.
Hydrogen peroxide that you get from the store helps whiten your teeth quite a bit. There is nothing wrong with settling for consumer grade peroxide, but if you can get your hands on some food grade, you will be doing yourself and your mouth a big favor. You can use this food grade version directly as a mouthwash without having to water it down, though you could also water it down with water if the taste is too intense for you. Swish for at least a minute to get the full effect.
Oil pulling is an old Ayurvedic method of improving your overall oral health. Take a virgin oil, such as virgin coconut or olive oil, and swish it around in your mouth each morning before eating anything. Use about a tablespoon in the morning, and swish for 15 minutes, though 20 is better. When you first start, the thought of gargling oil could be jarring, so try it for five minutes your first day, increasing a minute or two each day until you get to 15 or 20 minutes. This helps lift impurities and traps food and bacteria that cause decay.
Of course, preventative measures are highly effective, and should be employed when at all possible. One of the easiest is to use a straw when drinking anything that is acidic or can cause discoloration. Coffee and tea drinkers, or those who smoke a lot, are susceptible to yellowing. Drink from a straw to allow the liquid to bypass your teeth and go straight down your throat. It will not prevent all discoloring, but it helps a lot and goes a long ways towards a brighter smile.
Follow Swindon Dentist on Facebook.